AG COLUMN Vol.2



By AG
I didn't expect that I would write an article in this magazine again... And the theme this time is difficult.....it's about "PEACE"!!
I was born and brought up in Hiroshima, and as every of us who has grown up in this town knows, I have recieved an education about "PEACE" (but it's often about war and the atomic bomb anyway). Well, I lived near the Peace Park when I was a little boy, so I used to play in the Atomic-bom-Dome, broiled fishes (I caught them in the Motoyasu River) in the Peace-Fire, and then one day I fell down from the causeway and got injured badly. I think this was a judgment.
I imagine that for most people "the day of PEACE" is the 6th of August, but for me, the 8th of December is also an important day to think about PEACE. It's the day known as the anniversary of John Lennon's death, but also the day that Pearl Harbor was attacked by Japanese forces in 1941. The famous movie "TORA TORA TORA" is about Pearl Harbor and World War 2, you can see in the movie that it was the first time America was attacked in its national land. (Now it's not the only day, after 9.11.) So it is a really important day for people in Hawaii, it's like 8.6 is for us in Hiroshima. (If you're interested in it, I recommend you go to the Arizona Memorial Place. ) From that day, Japanese emigrants in Hawaii had a hard time as prisoners. Now we can visit and spend some time there peacefully, but I think we should remember that these old emigrants never gave up on living there. How about renting the two movies "TORA TORA TORA" and "PEARL HARBOR" to know more about these stories...?
So,what is PEACE for me?? I feel PEACE when I'm relaxing in Hawaii of caurse! I just want to have a day that makes me smile and laugh, not a day that makes my brows knit.
Well, the article this time became a little bit too serious, but I just hope everybody can get their perfect life dream from inside themselves. It only hurts your hands and soul to keep up stupid fighting! PEACE!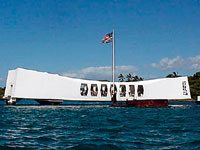 üľUSS Arizona Memorial
1 Arizona Memorial Place
Honolulu,Hawaii 96818
808-422-0561